This movie is just perfect okay? 
The awkward moment when ABC Family does Disney Channel's job more often and better than Disney Channel itself.
OMG ALADDIN, CINDERELLA, AND HERCULES? WHOO!
I mean I get ABC and Disney are BFFs, but Disney Channel always plays just DCOMs and the actual movies rarely. 
How I spent my New Years.
Went to a child's birthday party (And couldn't even go in the bounce house). 
And now I'm making ravioli while watching the old Hercules cartoon series. 
Damn it, Shang! You awkward MoFo
Day 22: An underrated Movie
Both these movies don't get a lot of credit. I think some people forget that they are part of the Disney Renaissance. 
Day 10: Your favorite song
I have so many damn songs that I love! 
The Lion King

-Be Prepared
-The Coconut Song
-The Lion Sleeps Tonight
-The Hula Song
-Hakuna Matata
-I Just Can't Wait to Be King
-He Lives in You (Only in the Broadway version of the Lion King)
Hercules
-Go the Distance
-Zero to Hero
Aladdin
-One Jump Ahead
-Friend Like Me
-Prince Ali
-A Whole New World
The Little Mermaid
-Under the Sea
-Part of that World
-Poor Unfortunate Souls
Mulan
-I'll Make a Man Out of You
-True to Your Heart
-A Girl Worth Fighting For
Jungle Book
-I wanna Be Like You
-Bare Necessities
Sleeping Beauty
-Hail to Princess Aurora
The Princess and the Frog
-Almost There
Beauty and the Beast
-Belle
-Beauty and the Beast
-Be Our Guest
Tangled
-When Will My Life Begin?
-See the Light
-Mother Knows Best
Pocahontas
-Savages
-If I Never Knew You
-Colors of the Wind
The Entire Tarzan Soundtrack (Phil Collins in the MAN!)
Mulan II
-Lesson Number One
-I Wanna Be Like Other Girls
The Lion King 2: Simba's Pride
-We Are One
-He Lives in You 
Cinderella
-A Dream is a Wish Your Heart Makes
-Sing Sweet Nightingale (Cinderella Version)
-The Work Song
-Bibbidi Bobbidi Boo
Snow White and the Seven Dwarfs
-Hi Ho
-Whistle While You Work
-I'm Wishing
All the music in Fantasia and Fantasia 2000 (Especially the Sorcerer's Apprentice)
Pinocchio
-I've Got No Strings
The Three Caballeros
-The Three Caballeros
Oliver and Company
-Why Should I Worry?
One Hundred and One Dalmations
-Cruella DeVil
Everything in Enchanted
The Aristocats
-Everybody wants to be a cat
Now if you'll excuse me, I'm going to go listen to these songs.
Day 6: Your favorite animal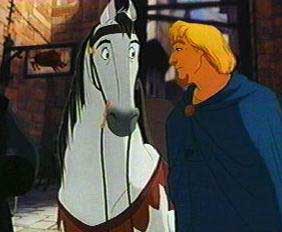 The Frickin' Horses. Achilles from Hunchback, Samson from Sleeping Beauty, Pegasus from Hercules, Khan from Mulan, Phillipe from Beauty and the Beast, and of course, Maximus from Tangled.   
They never speak, but I love their personalities. Especially Phill, Khan, and Max. Those three made me laugh. I'm glad they weren't given Dialogue, but I sometimes wondered what they were thinking. 
I do know that Khan probably told Mushu to "Fuck off, I'm not a cow." 
And who knows what Max was thinking to tell Flynn? 
Day 5: Your Favorite Hero
It's a tie between Hercules and Tarzan.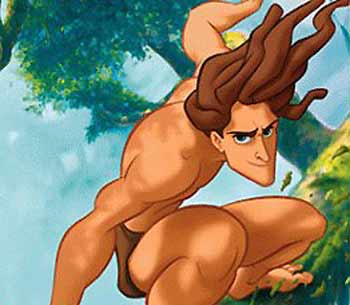 I find them both attractive and absolutely adorable. And both their movies are awesome. It's a damn shame they don't get much credit like all the other films of the Disney Renaissance.